TERRACOTTA SKINCARE
All-Natural, Plastic-Free, Handmade in Small Batches
Leaping Bunny Certification is a globally recognized gold standard for cruelty-free cosmetics, personal care products, and household items, indicating no animal testing was used in any phase of product development by the company, its laboratories, or suppliers.

Our 1% for the Planet membership reinforces our commitment to environmental stewardship, mirroring our mission's essence by directly supporting global sustainability initiatives.
Sustainability is at the heart of our operations. We use biodegradable packaging from EcoVision and recycled shipping materials from EcoEnclose in our pursuit of a zero-waste process.
Introducing: The Terracotta Balm Stick
Mess-free, portable, packed with nourishing ingredients!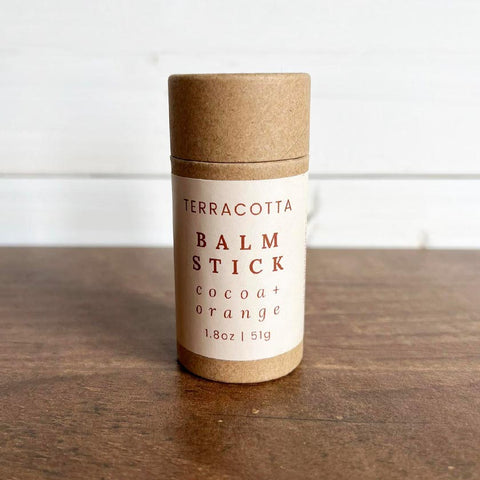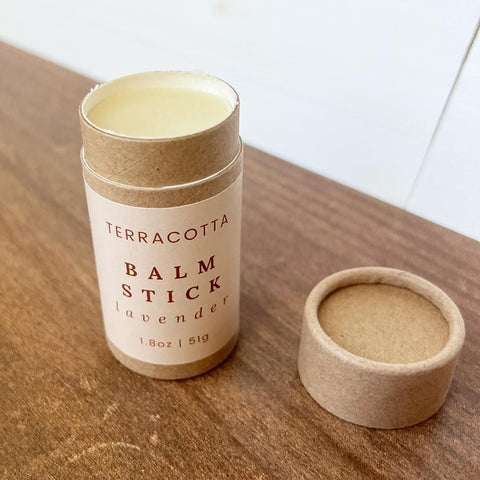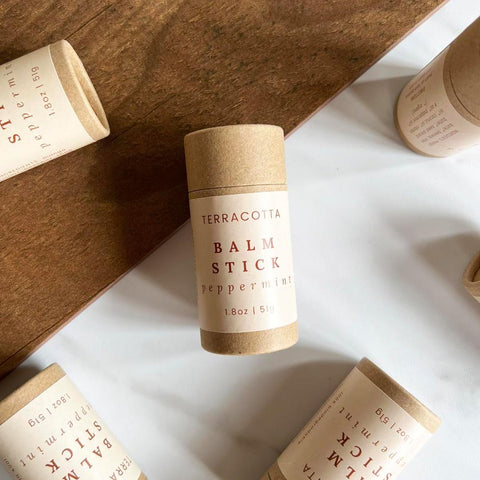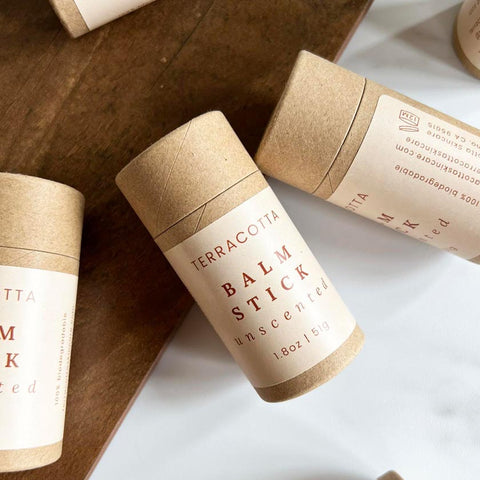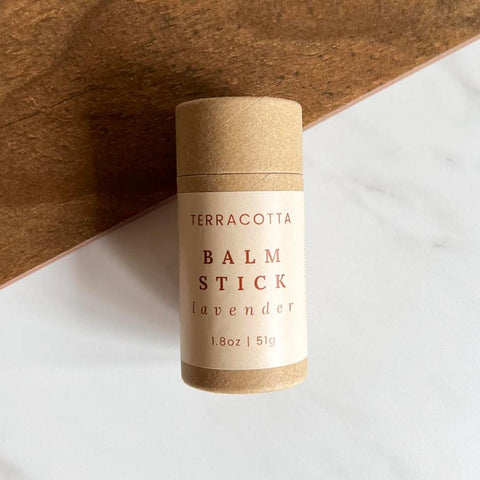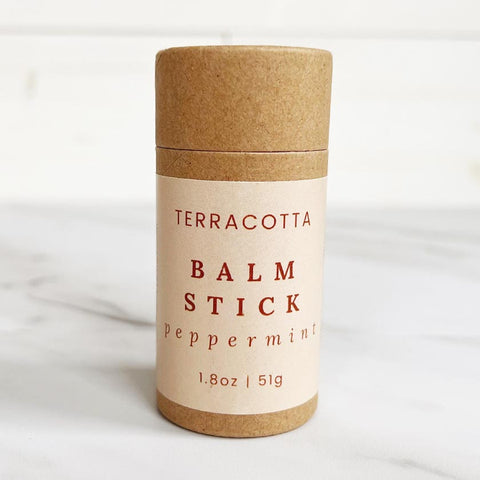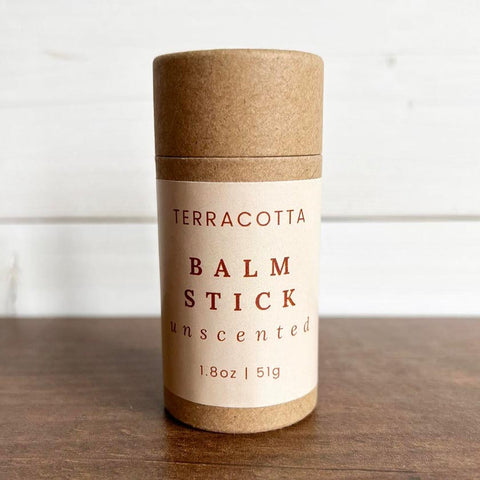 Balm Stick
Get a quick dose of moisture with our balm sticks! They're mess-free, portable, and packed with nourishing ingredients that will soothe dry spots and lock in moisture for hours.
We recommend Unscented for extra sensitive skin, babies and young children, as it contains no essential oils or fragrance oils.

PERFECT FOR THOSE LOOKING FOR:
✔️  A fast-absorbing, no-mess alternative to hand lotion (especially when you're working on your computer)
✔️  A TSA-friendly, on-the-go moisturizer
✔️  A natural, worry-free alternative to mainstream products containing toxic or filler ingredients (no parabens, phthalates, sulfates, synthetic preservatives, artificial colors/fragrances, or petro-chemicals)
✔️  A way to reduce your plastic waste (container is 100% biodegradable)
✔️  A unique gift for friends and family
INGREDIENTS:
Unscented, Lavender, Peppermint:

• Mango butter (organic, unrefined)
• Beeswax
• Shea butter (organic, unrefined, fair trade)
• Sweet almond oil (organic, unrefined)
• Coconut oil (organic, unrefined)
• Vitamin E oil (All-Natural, Non-GMO)
• Lavender essential oil (organic), peppermint essential oil (organic), or no essential oil for unscented

Cocoa + Orange:

• Cocoa butter (unrefined)
• Beeswax
• Hemp seed oil (organic, unrefined)
• Sweet almond oil (organic, unrefined)
• Vitamin E oil (organic, unrefined)
• Orange essential oil (organic)
INSTRUCTIONS: To raise the stick, push up on the bottom platform. Apply to skin as needed (legs, heels, elbows, wherever!). To lock in moisture, use right after showering. Upon first use, apply a small amount to your forearm to test for allergies.

TIPS:
Keep in cool, dry areas. During warmer months, stick may soften during transit, when left in direct sunlight, or in your car. If this happens, don't worry - just pop it in the fridge for a couple hours. The quality will not be compromised.
Pro tip: Keep in the fridge to provide cooling relief for

 

itchy skin!
ABOUT TERRACOTTA SKINCARE
All-Natural, Plastic-Free, Handmade
We only use ingredients that are found in nature and have not been chemically altered - like unrefined mango seed butter, shea butter, and hemp seed oil - so that your skin gets all the benefits (and nothing else)! Our approach to packaging is simple - we aim to send nothing to landfills, incinerators or the ocean. Each product is carefully crafted and packaged with love and care in the Pacific Northwest.
The Ultimate Trio - Lemon Mint Edition
Grab a bundle & save 20%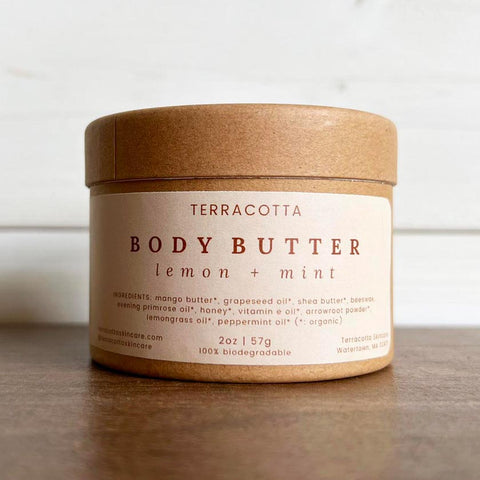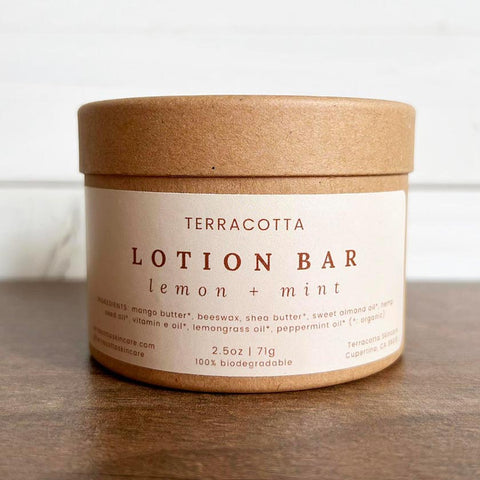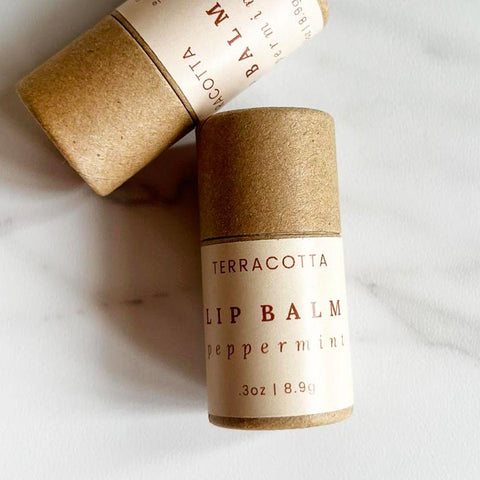 Testimonials
What our customers have to say
What a treat to use this straight out of the shower! The scent is to die for and it lasts all day! The eco friendly packaging + all natural ingredients - I am soo very happy with this purchase! :)
Bought this for my girlfriend who has eczema but ended up using it for myself. It stays on my skin and keeps it moisturized overnight. Definitely works for non-eczema skin as well!

My skin is super dry and sensitive especially around this time but this body butter is perfect for it! The price is super worth it for how little you need to use each time. Will def repurchase in the future
Keep Hydrated With Our Body Butters
Our Unscented Eczema Body Butter is a must for those with sensitive skin!