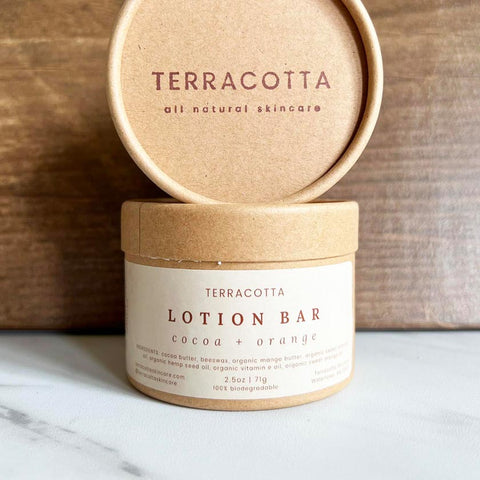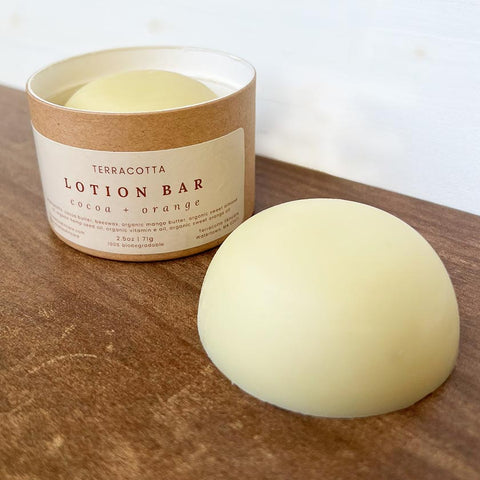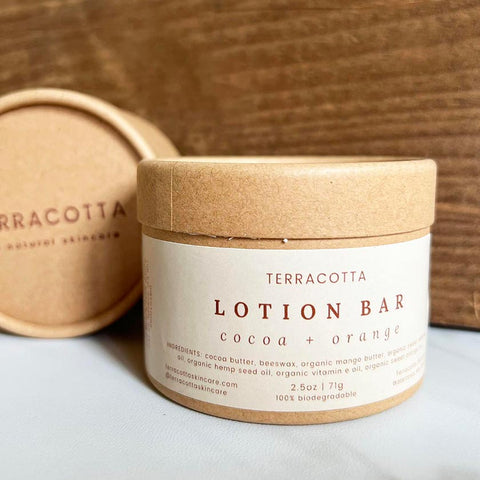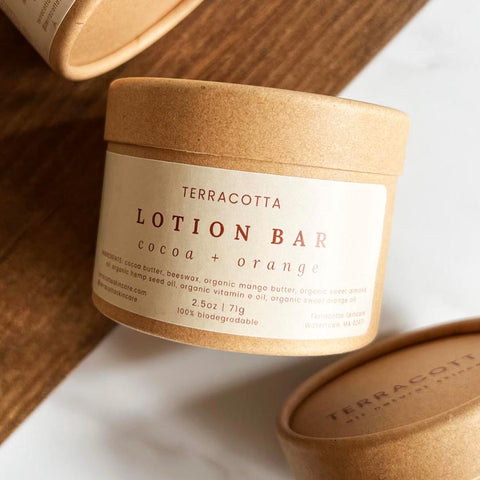 Terracotta Skincare
Cocoa + Orange Lotion Bar
Our lotion bars provide the same deep, long-lasting moisture as our body butters, just in a different format! Lotion bars are easy to use, portable, and very concentrated - so they will last you a long time.
Cocoa + Orange has a subtle scent reminiscent of chocolate. If you have sensitive skin, check out our unscented version.

PERFECT FOR THOSE LOOKING FOR:
✔️  A fast-absorbing, no-mess alternative to hand lotion (especially when you're working on your computer)
✔️  A TSA-friendly, on-the-go moisturizer
✔️  A natural, worry-free alternative to mainstream products containing toxic or filler ingredients (no parabens, phthalates, sulfates, synthetic preservatives, artificial colors/fragrances, or petro-chemicals)
✔️  A way to reduce your plastic waste (container is 100% biodegradable)
✔️  A unique gift for friends and family
INGREDIENTS:
• Cocoa butter (unrefined)
• Beeswax
• Hemp seed oil (organic, unrefined)
• Sweet almond oil (organic, unrefined)
• Vitamin E oil (All-Natural, Non-GMO)
• Sweet orange essential oil (organic)
INSTRUCTIONS: Rub the lotion bar between your palms and apply to dry areas with your hands. You can also rub the bar directly on areas that need some extra love. Use less than you think you need. To lock in moisture, use right after showering. Upon first use, apply a small amount to your forearm to test for allergies.
TIPS: Keep in cool, dry areas. During warmer months, this delicate bar may soften or melt during transit, when left in direct sunlight, or in your car. If this happens, don't worry - just pop it in the fridge for a couple hours. The quality will not be compromised!
Equivalent to about 1 bottle of lotion (12oz)