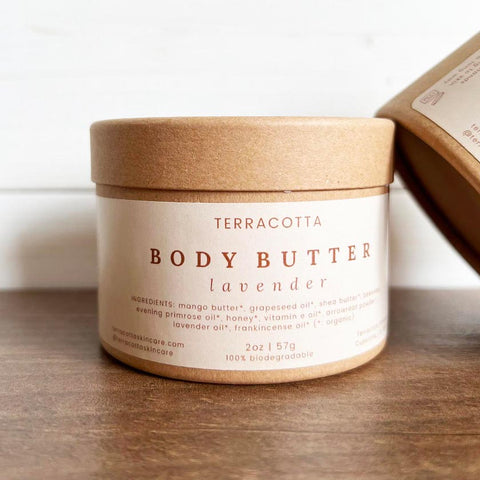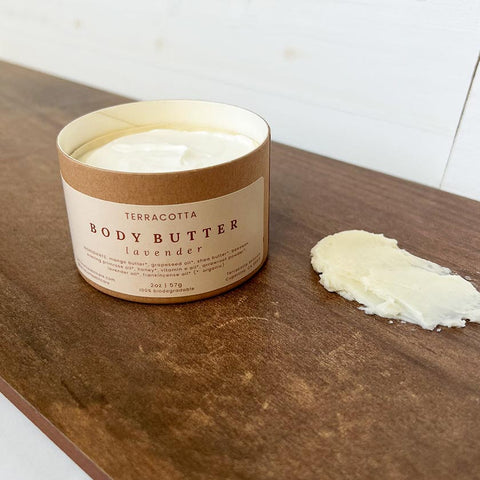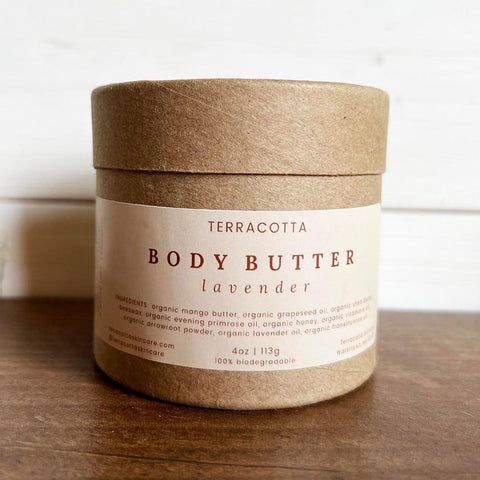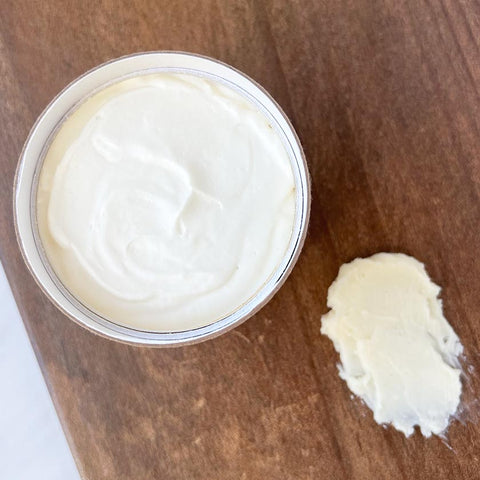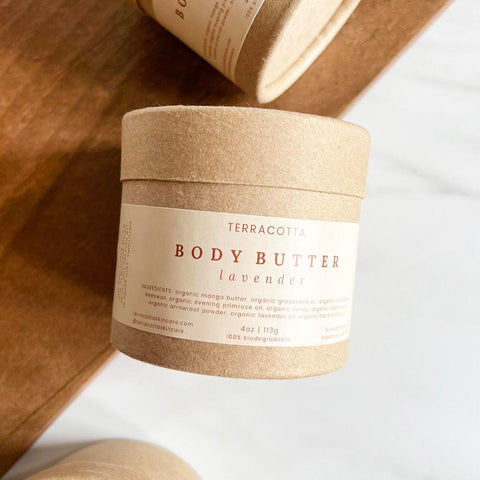 Terracotta Skincare
Lavender Body Butter
Our body butters are very rich and nourishing for dry or irritated skin. Ideal if you're looking for something with more intense, longer-lasting moisture compared to body lotion or cream.

Lavender has a subtle floral, stress-relieving aroma. If you have sensitive skin, check out our unscented version.

PERFECT FOR THOSE LOOKING FOR:
✔️  An all-in-one, non-comedogenic solution for body, hands, feet, and face
✔️  A natural, worry-free alternative to mainstream products containing toxic or filler ingredients (no parabens, phthalates, sulfates, synthetic preservatives, artificial colors/fragrances, or petro-chemicals)
✔️  A way to reduce your plastic waste (container is 100% biodegradable)
✔️  A unique gift for friends and family

INGREDIENTS:
• Mango butter (organic, unrefined)
• Grapeseed oil (organic, unrefined)
• Shea butter (organic, unrefined, fair trade)
• Beeswax
• Evening primrose oil (organic, unrefined)
• Honey (raw, unfiltered)
• Vitamin E oil (All-Natural, Non-GMO)
• Arrowroot powder (organic)
• Lavender essential oil (organic)
• Frankincense essential oil (organic)

INSTRUCTIONS: Gently swirl to soften the body butter. Apply a pea-sized amount to your skin (a little goes a long way!) and rub it in. The butter will melt upon contact with your skin, but will absorb quickly. Upon first use, apply a small amount to your forearm to test for allergies.

TIPS: Store in a cool, dry place (refrigeration not necessary) and use clean, dry hands to apply.